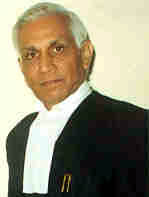 Graduated in Law in 1966 and passed M.A. (Western History) in 1968, both from Lucknow University, with certificate course in Taxation and Labour Laws.
Enrolled as an Advocate on Jan 06, 1969.
Practised on Civil, Criminal and Revenue sides but with the passage of time, he became exclusively a Civil Lawyer and practiced at Allahabad High Court and Central Administrative Tribunal,
Allahabad Bench, in Constitutional, Service, Education, Urban Ceiling, Rent Control, Labour and Excise branches of law.
Worked as Standing Counsel for Meerut University, Meerut, Bundelkhand University, Jhansi, P.M.V. Polytechnic, Mathura, N.T.P.C., UPSEB, Lucknow and Public Service Commission, Allahabad,
Legal Advisor-Principal Physio & Occupational Therapist Association. U.P.-1978, Represented several Bank, e.g. SBI, CBI, Oriental Bank, etc. Author of Education & Services Cases Digest.
Editor Several Law Journals e.g. UPCBEC, Education & Services Cases etc.
Designated as Senior Advocate on Feb 01, 1997.
Elevated as permanent Judge on Feb 05, 1999.